Transsib & North-Korea
In September and October 2004 I made a large Transsiberian train journey, together with a friend. From the Netherlands we travelled to Russia, Mongolia and China - all the way by train. From China we continued eastward and made a short trip to the world's most isolated country: North Korea.

It was a fascinating journey through former and current communist countries, a system that held a large part of the world in its grip during a long period in the 20th century. From the modern, metropolitan city of Moscow to the old-fashioned villages around stunning Lake Baikal; from the still communist but booming city of Beijing to the stalinist city of Pyongyang, it surely was a journey of great contrasts.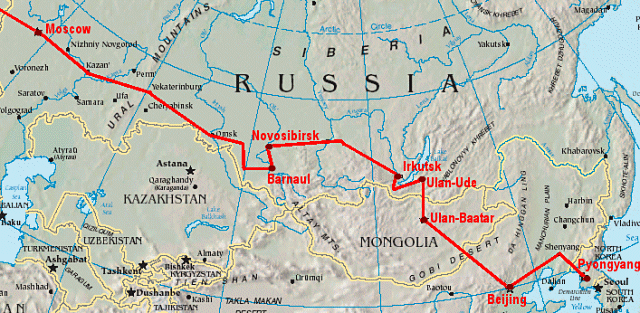 We planned most of our journey ourselves, with the exception of North-Korea, which is impossible to visit individually. We avoided the most popular tourist trains on the route (yes, there are many trains on this route - there's no such train as THE Transsiberian Express). And we made detours to places usually not visited by western Transsib tourists. Planning and organising such a journey yourselve takes a lot of effort and time - and is not always cheaper than booking a package tour. But you get a lot in return: flexibility and the chance to stray off the beaten track. We can recommend it to anyone interested in this kind of travel.

(C) David Eerdmans